Enquire now
Twenty20
The new Allegro Breeze 33IBR.
Throw the road a curve.
The new Tiffin Allegro Breeze, somehow quite small on the outside but huge on the inside. The most luxurious Class A diesel pusher we've made with the handling characteristics of an SUV rather than a full-size coach. From top to bottom, it's a masterpiece of spatial engineering and must be seen to be believed!
Factory-built right-hand drive and 240V this coach is the pinnacle of motorhoming in Australia.   Everything about this luxuriously refined model is designed for easygoing living. Our latest Class A vehicle is a pleasure to drive, with nimble handling, smooth air ride suspension, and a robust rear diesel engine. Living areas are airy, bright, and exceptionally comfortable, featuring high-end furnishings and finishes, including custom-built hardwood cabinetry with impressive storage capacity. The Breeze is also equipped with exclusive Tiffin innovations, from seamless slides and automotive-style compartment doors to a customised PowerGlide® chassis.
Traveling in the 2020 Breeze is a breeze.  It features our new 340hp engine package thanks to a 6.7L Cummins ISB power plant.  Layout options include booth dinette and queen size bed and galley window.
Exterior
Power Management
Solar
1000W
Inverter
Victron Multiplus 3000W
Air Conditioning
Dual Reverse Cycle Ducted
Solar Regulator
Victron 50amp MPPT
Satellite
VANSAT Automatic Dish
Batteries
Power Sonic 6V AGM (430a/h)
Awnings
Electric Door and Patio
Generator
Cummins Onan 5kw Diesel
Cameras
Left, Right & Rear
Entertainment
Kitchen
TV's
Bedroom, Mid & Exterior
Cooktop
Thetford 3+1 with Grill
Blu-Ray
Sony
Microwave
Electrolux Convection Oven
Foxtel
Optional
Fridge
Dometic 12V 218L Compressor
Soundbar
JBL (mid TV only)
Dishwasher
Optional
Optional Appliances
Tank Sizes
Washing Machine
Dometic 3kg Front Loader
Diesel
275L
Dryer
Camec 4kg
Fresh
275L
Basement Fridge
Waeco CFX35W
Grey
208L
Black
125L
Gas
18kg
Heating
Air

  Gas Furnace
Water

  23L Gas / Electric
Overseas model pictured.  Not all features are available in Australia.
Floor Plan
Standard Features
PrecisionTrack
PrecisionTrack technology merges independent front suspension with an air ride system, enhancing steering control for quicker cornering and easier manoeuvring.
Smartslides
A game-changer in RV design, SmartSlides are slide-outs built as single fiberglass units making them air- and watertight, as well as virtually undetectable when closed.
Store-It-All
This Tiffin coach will surpass a competitor's model of equivalent size in the quantity and quality of storage.
Artisan Woodcrafts
Woodwork is meticulously carved from solid unblemished hardwood by Red Bay master craftsmen. The multitude of cabinets, drawers, and closets adds up to more storage than many larger size models.
Tiffin-Built Components
Our coaches feature custom-made components designed and built by Tiffin craftsmen. This guarantees quality and consistency, as well as ensures replacement parts are always available.
Form-Fitted Seamless Roof Cap
An innovation in motorhome construction, our one-piece fiberglass roof provides a solid leak-resistant barrier atop the coach. Edges fit snugly over sidewalls for maximum protection from the elements.
Extraordinaire System
Tiffin's exclusive quiet climate control technology circulates air through ceiling vents to keep the airflow moving in a circular pattern, maintaining your desired interior temperature.
Dry-step
Water run-off from the air conditioning system is jettisoned on the driver's side of the coach, ensuring the surface near the entry door remains safe and dry.
2020 Tiffin Allegro Breeze 33IBR
Interior Decor
select your colour below
Exterior Paint Scheme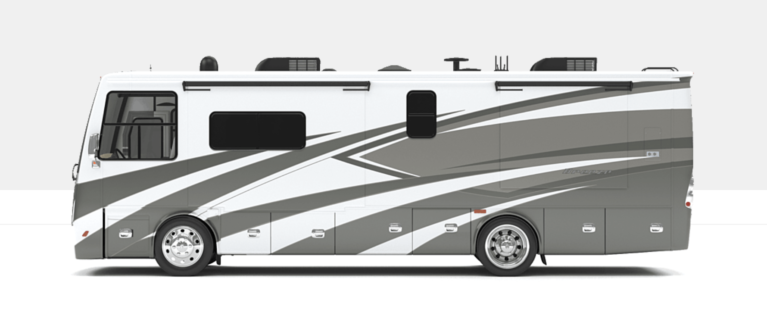 Frosted Granite
Silver Sand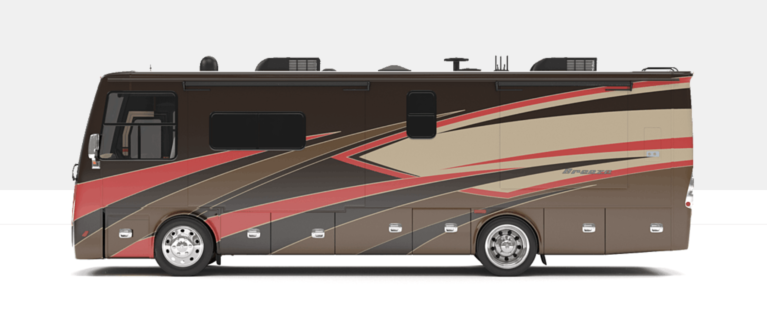 Spiced Java
Rocky Mountain Brown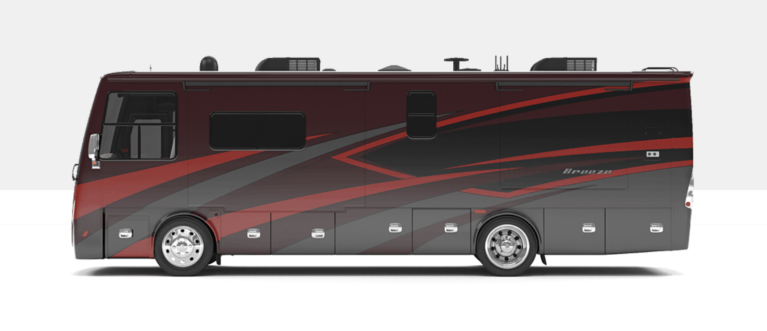 Fire Opal
Frosted Granite
Silver Sand
Spiced Java
Rocky Mountain Brown
Fire Opal